All the important stuff you need to know to run your society.
Got a question? Contact your VPSA for support.
Hello and welcome to the society guidelines! I'm Kellie, your Vice President of Student Activities – my role here at DUSA is to oversee all of our student societies and extracurricular activities. I'm your go-to person for any society questions you may have, but this handbook is here to help you in the running of your society and hopefully get your questions answered faster! It offers hints, tips and information on a number of issues, including banking, room bookings, fundraising and anything and everything else.

Hopefully, we've covered everything here, but if there is any other information you think we should include, please let us know and we'll add it!

If you have any queries, please don't hesitate to email me at vpsa@dusa.co.uk. You can also pop in and see me for any quick questions you may have on Mondays between 11:00-13:00, and Tuesdays between 13:00-15:00 at the Hive reception. If its something that may turn into a bit of a lengthy discussion, please email me to book an appointment. Looking forward to working with you all throughout this year!
Kellie Ioannou
Vice President of Student Activities 20/21
All societies must comply with the GDPR regulations and ensure they are protecting their members details as stated by the EU law. See our GDPR Guidelines for Societies.
DUSA has created a Privacy Notice Template which you can customise for your society. You must share this policy with your existing members and all new members during sign up. It should also be available to them to re-read whenever they require. You can do this by including it on your website/Facebook page if you have one, or email it directly to all members. Any time you amend or update the policy, you must reissue it to all members.
As DUSA affiliated societies, you have public liability insurance for your events which is covered by DUSA. Important to note is that if your events involve anything active (cooking, dancing etc.), you must download a risk assessment template and send a completed version to DUSA's Head of Operations, Chris, at cgourley@dusa.co.uk.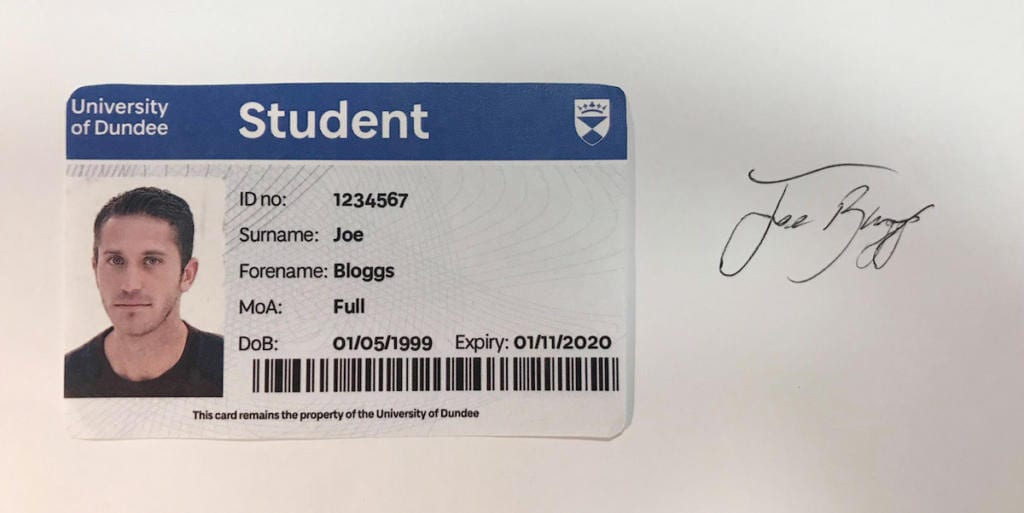 To bank on behalf of your Society, you must register as the appointed member and provide your student ID and signature to process transactions. Before you begin this online form, please have a clear photo showing your student ID and signature ready to upload. Please see the above example.
Society Banking Consent
To bank with DUSA, an appointed society member must register with us using the following form.
The below form allows society tresurers to make payments from their society account. If you would like to bank on behalf of your Society, you must first register using the previous tab on this page. 
Banking Request Form
For society treasurers to input details of payments they want to make from society accounts.
The Funding Panel

Societies can apply to receive funding from DUSA to support their activities. To request funding, Societies must submit a Funding Application via the online form below. For more information about funding please refer to the Societies Handbook or email vpsa@dusa.co.uk
To fill the application, you will need the following:
The most up to date bank statement for your Society, scanned
Updated balance sheet on the finances of your Society or a financial statement explaining your financial situation
Your Society's bank account number and sort code
Last year's overview of events and finances
The reason for applying and the specific breakdown of costs
Please read the advice within the Society Handbook to ensure you understand how the process works.
Funding Application Form
Please fill out this form if you wish to apply for funding.
The application will be sent to the Societies Funding Council and you will hear about the decision shortly. Please read through the guidelines below on what DUSA does and does not sponsor.
Venue Booking
Please fill out this form in order to book a venue with DUSA The Union and we will get in touch with you shortly.
Some of the ways to promote your society and its events
Ask DUSA to promote your event on social media
If you would like DUSA to share your event, please read the following Social Media promotion guidelines, then complete the online form found on this page.
DUSA's online social media presence can be used to help with advertising and promoting society events (cultural events, pub quizzes, social gatherings, etc.)
Online promotion is approved and granted by the VPSA, Clubs & Societies Coordinator and Media & Communications Coordinator
Events that are promoted through DUSA's social media should ideally be inside University Grounds or in DUSA. If they are out with these, VPSA, Clubs & Societies Coordinator and Media & Communications Coordinator will decide whether it is appropriate to promote the event
All efforts will be made to ensure fair distribution of online promotion across societies, however on occasion events that tie into DUSA's charitable objectives or further our goals may receive incrementally more support. (Normally, an event will receive 1 Facebook post – more may be granted at our discretion. Snapchat, Twitter and Instagram are available as well)
There is no guarantee of support, we will help when possible and will operate on a first come – first serve basis. If a 5-working-day deadline is adhered to, we will do our best to accommodate the request
We reserve the right not to publish promotion requests which may conflict with our impartial status, charitable objectives, commercial activity and pastoral causes
Society Social Media Support Request
Use this form to request promotional support for your upcoming Society event.
Societies' booklet
This is your first chance to introduce the society before the Freshers' Fair. The booklet will be circulated all year round – Freshers' week, University's Opening Days and simply always there in the Enquiry Centre. So people will be able to know about you before even coming to the University. You never know, you may be the reason they choose this University over others and be a great asset to your society!
Stalls at The Union
Holding a stall at DUSA provides your society with another great opportunity to publicise itself/events to the students. Most of the time, the stall will be facilitated outside the level 2 reception or in front of the building. Just drop by/contact the VPSA in advance to ensure your stall will be well-equipped and attended.
Posters and flyers around campus
Postering and flyering around campus is a tried-and-tested method of promoting your events. It is important to put effort into a design that would send a clear message and contain all the necessary information. Just ensure that you receive permission from DUSA and/or University before filling campus with your posters (and remember – no metal pins to the trees!).
If you need any help designing or printing materials, contact VPSA. Bear in mind that design requests should be made 8-10 weeks in advance, print – 3 weeks before the posters have to be up.
Utilise online presence
Just creating a website or a social media page is not enough. You have to keep being active. Let everyone know what the society has been up to, post information that is not directly related to the society's activities but may be interesting for the members. Creating the event page for your events are also not enough. Make as many people as possible invite their friends, share the page and change the profile/cover photo. Make sure both the society and the event are all over the Internet.
Press Release
If you have planned a major or unique event then why not contact the press. A well-placed press release can do the same work as hundreds of posters. Contact the Vice President of Communications and Campaigns (vpcc@dusa.co.uk), who will be more than happy to walk you through the process and put you in touch with the right people.
E-mail
This is one of the most effective ways to keep people updated. You can send information, newsletters and simply organise everything via e-mail. A good idea is to keep all the paper trace in case some misunderstandings arise. We strongly encourage you to use @dundee.ac.uk shared mailboxes – it is connected to your (and fellow committee members') university's e-mail account and makes the society look more professional. It is very easy to set up – just e-mail VPSA (vpsa@dusa.co.uk) with your name, position, matriculation number, university's e-mail address and what address would you like your shared mailbox to have. We will sort the rest for you.
Website
Make sure your society is listed on our Society A-Z. This is where new students can discover your Society and become members. You will need to provide a timeless society description (by 'timeless' we mean content that will be accurate all year long. I.E. Do not mention upcoming events, as this will soon become out of date). You will also need to provide an image to represent your society (landscape), and links to any social media channels you have. Email this content to your VPSA (vpsa@dusa.co.uk)
Social Media
Living in the 21st century, you cannot get away from it. Create pages or groups (pick one – having multiples is highly confusing for an outsider!), tweet; use Instagram and Snapchat, if you wish. This is the least time-consuming means of communication. However, it has to be used wisely and be constantly updated. There is much more content freedom than in an ordinary website, so you can post not only about your own society but more broadly, too. Start discussions and share your thoughts. For a lot (not all!) of students social media is the main way to show off what your plans are and what has been happening in the society.
Mail
The post your society receives should be directed and delivered to DUSA. This is so that any member of your society's committee is able to collect the mail at any time throughout the week and so when you move house you don't have to worry about changing the address. All the mail should have society's name on it, not just a named person, as it is difficult to know what society it belongs to. Packages can be delivered here also, and will be stored in the VPSA's office. If you are expecting a package, please notify the VPSA; so Exec members are aware of any incoming packages which they may have to sign for. The address is:
Dundee University Students' Association
Airlie Place
Dundee DD1 4HP
How to book a stall at the Freshers or Refreshers Fair
The Freshers' and Refreshers Fairs are held annually and are the best opportunities for societies to attract new members. There are thousands of new and returning students attending both fairs and it is your chance to show off what you do and kick-start your year.
Freshers Fair Stall Booking Form 2021
Fill out this form to book a stall at the 2021 Freshers Fair
Book a stall for the Virtual Freshers Fair
The Freshers' and Refreshers Fairs are held annually and are the best opportunities for societies to attract new members. This year to avoid congestion we're running a Virtual Freshers Fair parallel to the in-person fair so you can attract students who may not be on campus yet.
Virtual Freshers Fair booking
Please fill out this form in order to share your virtual stall information for the 2021 Freshers Fair. The information you provide in this form will be used to process your request. We may contact you if we have any issues/questions via the given contact details. If you wish to withdraw your booking, please contact vpsa@dusa.co.uk
At the end of every academic year we recognise those who did a remarkable job throughout the year. Read about the six awards below. Nomination open in Semester 2.
Best New Society
This Award goes to the society that has been affiliated in the last year and who we believe has made an impressive mark on campus life by organising engaging events and activities, and has brought a new wealth of knowledge to the University.
Most Progressive Society
This award goes to the Society that has made the most progress throughout the year, improved their society as a whole, involving more members, having more events and bigger events thaen they have had in the past.
Most Active Society
This award goes to the society that has been the most active in the past year throughout the University student body and has involved a large amount of the University's community through various events, information sessions and other activities.
Best Society Event
DUSA has had this award since 2008, it goes to the society who has planned and executed an extremely successful event which has stood out in the past year.
Society of the Year
This title is awarded to the society that has made the greatest effort over the past year. Interacting with the student community, organising a range of events aimed at involving a diverse range of student demographic. This goes to the society that has really put the effort into everything they have done this year and tried to make the most of every event. This society would have also engaged significantly in DUSA led events such as the Raising and Giving Week.
Society Achievement Award
This award goes to a member of a society that has gone above and beyond the call of duty within their society and that have shown themselves to be an outstanding asset to their society. Members of each society can nominate any member of their society.
Volunteer of the Year Award (in association with Volunteer Friendly)
This award is to celebrate an individual who has made an outstanding commitment to voluntary activities within DUSA, The University and/or the wider community. The winner will have demonstrated their ability to spare time for the benefit of others, whilst remaining dedicated to their academic activities.
Need to update your page on the Societies A-Z?
If you've just affiliated your society or are needing to update your page on the website, fill out our handy form!
If you need an option that is not listed on the form, contact your VPSA.