DUSA Self Defence Society
Ever thought of learning a genuine martial art that actually works in a real situation? If the answer is yes then come along and join the Self Defence Society!
Joining
If you missed, or can't make, the Fresher's Fair at the start of September (or Refreshers Fair at the start of January) please make sure to check out our 
welcome message
 for more details about what we do. We also have our Facebook page: 
https://www.facebook.com/DUSASelfDefence/
 that we regularly post all the relevant information for training sessions. We would also recommend our YouTube channel: 
https://www.youtube.com/user/SelfDefenceSociety
 where there are several tutorials and short clips outlining the sort of stuff we get up to every week.
As always, if you have any questions, please contact us
. See you soon!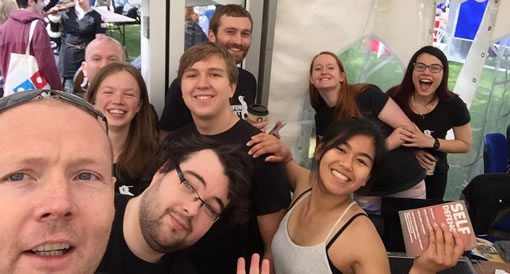 President:
Martyna Stuglik
Vice President:
Benjamin Podger
Treasurer:
Michela Caviglia
Secretary:
Finlay Strivens
Social Conveners:
 Lewis Shillinglaw and Alexander Betts
Where We Train
We train in 
MONO (Level 1, DUSA)
 on 
Tuesdays and Level 4, DUSA (Behind the Games Room) on Thursdays – 6pm to 8pm.
Beginners are always welcome and more details can be found on our
class times page
.
What We Do
Tuesdays class is primarily focused on drills and conditioning and Thursdays centre on close quarter combat technique and mechanics. We usually work on an element of free play during class, so that we can pressure test our training too. Over time, we like to encourage developing the use of ground work in a self-defence context and where appropriate defence against both short and long range, blunt and sharp weapons. As a member of DUSA Self Defence Society, you would also have automatic access to regular weekend workshops and seminars with renowned teachers regarded as experts in their field. For more details be sure to check out our
information for new members
!
Your First Time?
Bring jogging bottoms and a t-shirt if you want to join in, or just come along and watch, no fitness or experience necessary – beginners are more than welcome. Your
first week is free
, afterwards, classes are:
£45 per year –
Includes free t-shirt
£25 per semester –
Includes free t-shirt
£10 per month –
£5 to buy a t-shirt For more details please make sure to read our 
welcome message
 or just 
come to one of our classes
 for a free taster sessions. If there's something we've not covered make sure to 
get in touch
 with our instructor Chris Clarke.