The event, which puts 5 presenters in a constantly LIVE radio and Facebook stream from 5 pm on Friday, to midnight on Sunday. Last year, JAM raised over £2000 for RAG and initially signs this year are equally promising.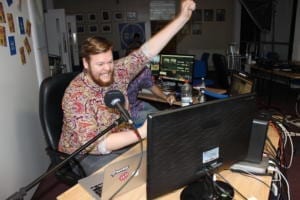 Craig, Claire, Jen, Emine and Gonzalo will be welcoming student societies, bands and special guests to bring the campus community together and earn as much money for Dundee Foodbank, this year's RAG charity.
In day one, our presenters found their feet through quiz shows hosted by last year's media exec and DJCAD president, Lewis Kennedy. We were able to break through the first £100 milestone and get through the initial big trial of time, the first 20 hours.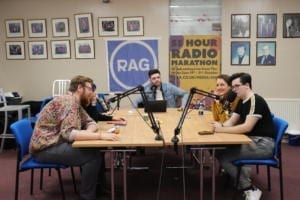 Off to a flying start, Fergus of Reckless Kettle fame swapped Rooms for DUSA and played a brand new set. As well as this, our media and exec "families" were pitted against one another in a hard-fought game of Family Fortunes. The wee hours of the morning were made bearable by a game of Mastermind where we discovered that Jen knew literally everything about the show "Friends". There then followed a game of pool which can only be described as "the single most exciting thing that has ever happened". In what is now a tradition, our brave over-night presenters stalked the "haunted" halls of DUSA and mono.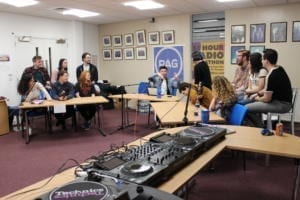 Please dig deep, anything you can give would go a long way! Donate at:
justgiving.com/fundraising/jam55
OR
Text JAMR55 followed by the amount you'd like to donate to 70070!
Last but absolutely not least TUNE IN to hear the shenanigans!
facebook.com/justaddjam
By Murray Paul Glen